WHAT DIFFERENTIATES VITAL-C FROM A TRADITIONAL FORM OF VITAMIN C?
The use of our proprietary liposomal technology in the VITAL-C formulation allows:
✅ high quality of liposomal vitamin C,
✅ prolonged and stable encapsulation of vitamin C,
✅ the proper amount of vitamin C (increased bioavailability),
✅ transport of vitamin C in unchanged form (protection against degradation-inducing factors (e.g. oxygen, gastric juice, digestive enzymes),
✅ easier penetration of vitamin C into the specific organs/tissues (targeted transport),
✅ long-term maintenance of high level of vitamin C in the target area.
HOW DOES VITAMIN C WORK?
contributes to the protection of cells from oxidative stress*
contributes to normal collagen formation for the normal function of skin, bones, blood vessels, gums and teeth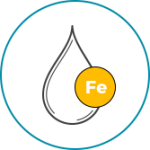 increases iron absorption
contributes to normal functioning of the nervous system
contributes to normal function of the immune system
contributes to normal energy-yielding metabolism
When is it advisable to use Vital-C?
✅ during the period of reduced immunity
✅ by people exposed to chronic stressful stimuli
✅ by people leading an intense lifestyle
✅ as a "beauty vitamin" – vitamin C contributes to normal collagen formation, which is the main component of the dermis 6, and in the regeneration of the reduced form of vitamin E
See what our amazing customers are saying
The #1 Seller for Immunity
Liposomal Vitamin C – 1200 mg – 180 Vegetarian Capsules
Promotes Immune System Health
Powerful Antioxidant Properties